Welcome to our self catering, holiday villa for rent in Frigiliana on the Costa del Sol, Spain!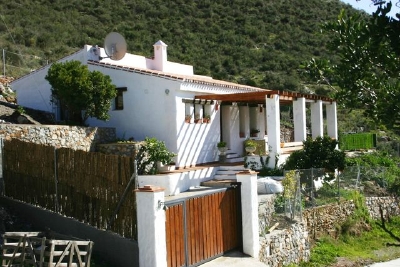 Welcome to our website showcasing our delightful country house in the charming and pretty village of Frigiliana on the sunny Costa del Sol in Andalucia, Spain!
Our holiday villa is a typical and authentic, rustic country house and is available for either short term holiday rentals, short term lets, long term winter lets, family vacations or short breaks. The accommodation is self catering and is perfect as a quiet countryside retreat! Have a look at some of the photos of our holiday villa!
Despite being in the countryside, the villa is within easy walking distance of Frigiliana on a flat and surfaced country lane. As such, this convenient location makes it ideal for elderly people or families with children for ease of access and the leisurely short walk to the village this provides.. More importantly, a car is not necessary while staying at the villa as it is so easy to walk into the village for a drink or an evening meal in any one of the excellent restaurants. Walking back is not a problem either, even if you find yourself a little tipsy! More information on our holiday villa for rent.
In case you were wondering where it is, Frigiliana is a lively little village about 7 kilometres inland from Nerja, the larger and perhaps better known tourist resort on the eastern Costa del Sol, Malaga. Frigiliana typifies the meaning of "pueblo blanco" and is truly a special and totally unique Spanish village. It has won many awards for its efforts to maintin its historical and architectural heritage. The old town, and especially the "moorish quarter", still retains its original aspect and character and is a real window into the past.
If you are the adventurous type, there are so many outdoor activities in Frigiliana to keep you busy. Some of the many outdoor activities available in Frigiliana include walking and trekking, horseback riding excursions and quad biking into the foothills of the Sierra de Tejeda, Almijara y Alhama Natural Park. If you are interested in trekking or walking in the mountains in Frigiliana or horseback riding into the hills, I can easily organise this kind of thing for you.
With the Spanish being Spanish, there is a multitude of local festivals and fairs to experience throughout the year. Frigiliana's climate and weather is wonderful as the winters are much less severe than in northern european countries. Autumn and spring are especially pleasant, and winters can be surprisingly warm.Another experience definitely not to be missed is a visit to the famous and undeniably spectacular "Cuevas de Nerja" or Nerja caves.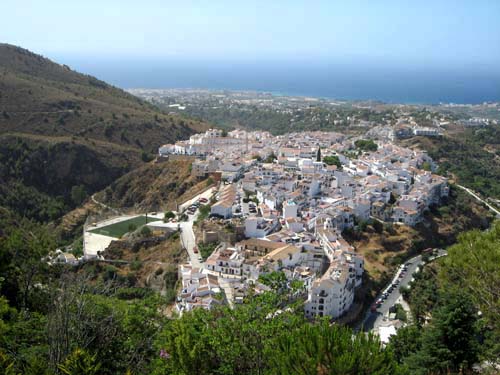 Nerja and the beaches on the coast are just a 12 minute drive away! According to the travel information website TripAdvisor, Nerja has been highlighted as one of the Top Ten Beach Towns in Europe! Now how about that!
Take a look at the prices and availability of our villa and you will see that in comparison to other holiday villas and country houses for rent in Frigiliana and on the Costa del Sol, our prices are extremely competitive and represent excellent value for money.
Feel free to contact us for more information or if you have any questions.